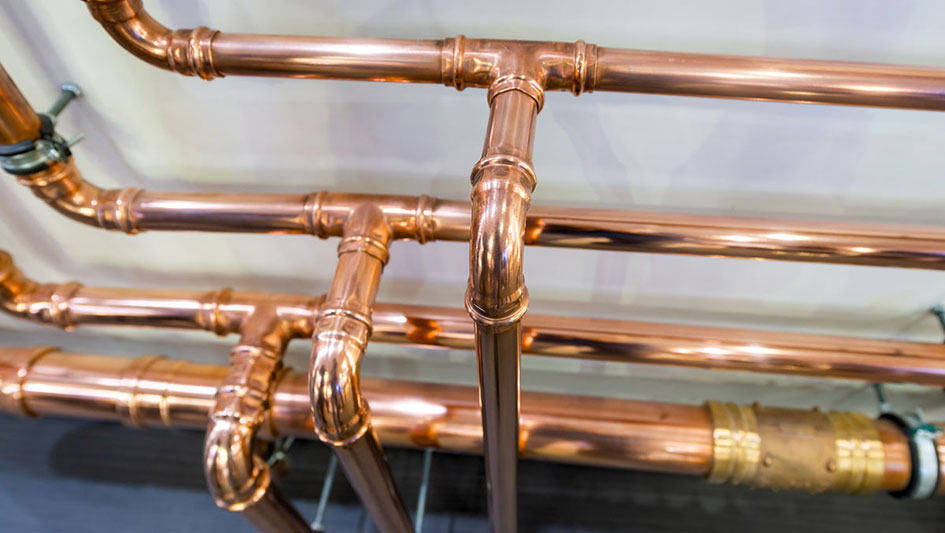 The pipe brands and types in your home may not make a perceptible difference in your daily life, but they do affect the function of your plumbing system. They could also impact your pocketbook should you need a repair, an addition, or a replacement of your plumbing system. The most common pipe options used currently include:
Copper
Pure copper pipes are the gold standard for plumbing, since the metal is durable, safe, and resistant to corrosion. The only downside to copper is its price. Copper comes from underground mines, and extracting it requires a significant capital outlay. Its price varies depending on demand.
United States Brass and Copper, and Mueller Copper Tube are the primary pipe brands in the United States.
PVC
Its durability and lightweight nature make PVC (polyvinyl chloride) one of the most common pipe types used residentially for a number of purposes. It's used for drain lines, underground water-supply lines, toilets, sink and bathtub drain lines, and vent stacks. It's not used for delivery of fresh water because it degrades when exposed to UV (ultraviolet) light and high temperatures.
The PVC pipe brands include Diamond Plastics Corp., Cresline Plastic Pipe Co., Occidental Corp., and Charlotte Pipe and Foundry.
CPVC
A sister to PVC piping, CPVC (chlorinated polyvinyl chloride) pipe can withstand high temperatures, which makes it suitable for delivery of fresh water. Some building codes specify the use of CPVC instead of PVC because of its ability to handle heat and pressure. Like PVC, it degrades under UV light.
PEX
One of the newest pipe brands available, PEX (cross-linked polyethylene) has replaced copper piping for interior freshwater plumbing. This pipe is strong and extremely flexible and lightweight. Besides being used in new construction, it's often the go-to pipe for remodels and repairs, since it can bend at 90-degree angles and doesn't require soldering. It is sold in long lengths, eliminating the need for fittings. PEX pipe brands include Apollo, Everhot, Mr. Pex and Nibco.
If you'd like to learn more about pipe brands and types, contact the pros at Aggressive Mechanical Contractors. We provide plumbing and HVAC services for Monmouth County-area homeowners.